2019 Western States Forum
---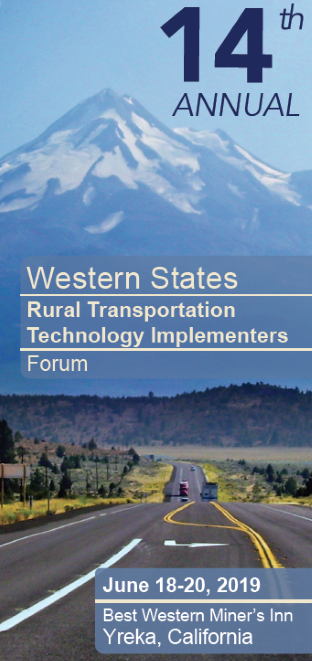 Plans are underway for the 14th annual Western States Forum, to be held June 18-20, 2019. We promise continued excellence in technical content along with a range of new technical topics.
Registration for the 2019 Forum is now open!
The Forum will be held in Yreka, California, at the Best Western Miner's Inn. Lodging information for the Forum can be found on the 2019 Forum Lodging page.
---
The following technical presentations and demonstrations are currently on the 2019 Forum agenda:
Connected Vehicle Pilot Project on Mission Street in Salem, OR
Julie Kentosh, P.E., PTOE, Doug Spencer, P.E.
Oregon Department of Transportation

Design, Development, and Field-Testing of the Caltrans Responder System
Stephen Donecker, Melissa Clark
AHMCT UC Davis; Caltrans Division of Research, Innovation, and System Information

Fiber Optic Systems in Rural Areas: Building and Leveraging Fiber Systems
Lynne G. Yocom
Utah Department of Transportation

Foresight is 2020: NDOT Building an ITS Network for the Next Decade and Beyond
Jim Whalen, Gary Molnar
Nevada Department of Transportation

Miovision Equipment for SPAT Challenge – Intended and Actual Outcomes
Ken Burt
Washington State Department of Transportation

Organic vs. Purchased Data for Travel Time Prediction
Andres Chavez
Caltrans District 3

The Maintenance Decision Support System (MDSS)
Michael J. Adams
Wisconsin Department of Transportation

UDOT's Region Four Rural Intersection Conflict Warning Systems (RICWS) Design and Implementation
Troy C. Torgersen, P.E., Robert Dowell, P.E., Tyler Turner, P.E.
Utah Department of Transportation, Civil Science