17th Annual Western States Forum
---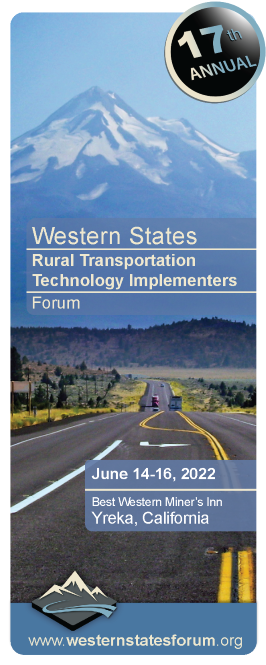 June 14 - 16, 2022
Registration for the 2022 Forum is now open! Attendance is limited. Registration will close when the maximum number is reached or on May 13th, whichever comes first.
The Forum will be held in Yreka, California, at the Best Western Miner's Inn. Lodging information for the Forum can be found on the 2022 Forum Lodging page.
For maps and directions to the Forum or information about the many activities in the Yreka area, check out the links above.
---
Here are the invited presentations / demonstrations for the 2022 Forum:
Commodity Traffic Cameras as Cost-Effective Alternative to Traditional Sensing Hardware
Dan Rossiter
Southwest Research Institute

Controlled Helter-Skelter: A Tale of Chain Controls and Traffic Queuing
Keith Koeppen
Caltrans District 2

Evaluation of Road Weather Messages on DMS using Roadside Pavement Sensors
Skylar Knickerbocker
Iowa State University

Next Generation Work Zone Data Integration and Dissemination – Work Zone Data Exchange (WZDx) Development from Planning to Operations
Justin Belk, Joshua Hudson
Washington State Department of Transportation

OptaSense – A New Way to Make it Count
Eric MacGill
Nevada Department of Transportation

The Nevada TSMO Program – A Modern Approach to Solving Old Problems
LaShonn Ford
Nevada Department of Transportation

UDOT's Region Four Intersection Conflict Warning System Phase 2
Troy Torgersen, Graig Ogden
Utah Department of Transportation

UDOT's Region Four Variable Speed Limit (VSL) I-15 Corridor in Rural Utah
Troy Torgersen, Graig Ogden, Cody Opperman
Utah Department of Transportation